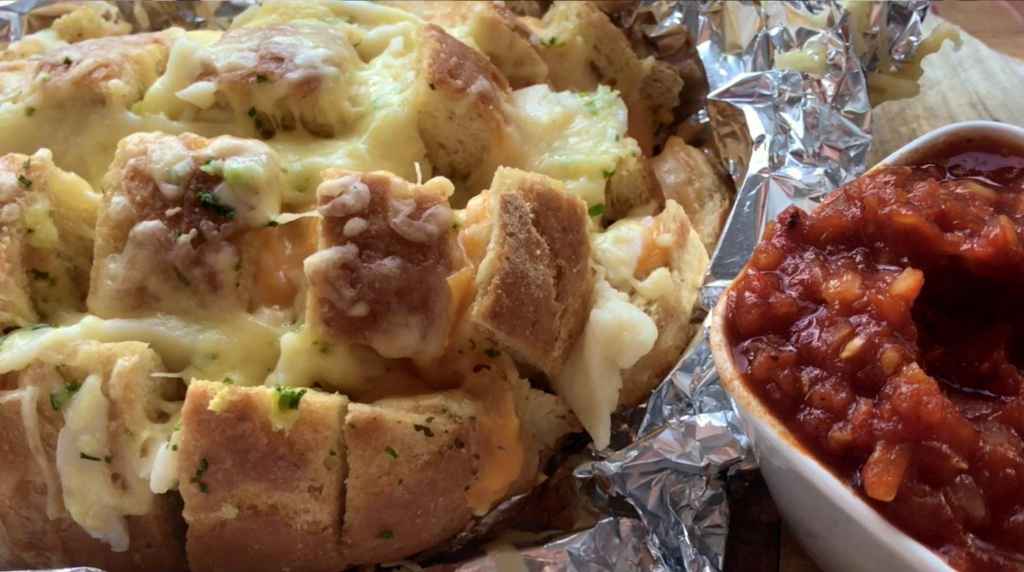 Pull bread exists in many forms, but the tastiest is prepared with lots and lots of cheese. Eating this dish with your fingers is of course the way to go here. We've given this dish a South-African twist by adding a spicy version of the South African Chakalaka, also known as Sheba. Chakalaka originates from the townships of Johannesburg and has found its way to a lot of tables and kitchens across the world. With this delicious dish we recommend something a little bit sweeter like the Iswithi Pinotage of the Imbuko line.
Instructions
View the video for a simplified easy to follow version of the instructions below.
Cheesy Pull Bread
Cut the white bread in strokes of app. 2 cm aside until you've almost reached the bottom (it is important you don't cut the bottom crust).
Turn the bread 180 degrees and do the same. Making a cross pattern.
Put the now cut bread in an oven dish with enough aluminum foil to cover it (wait with covering the whole bread).
Spread garlic butter proportional over the slits in the bread.
Then fill these slits up with cheddar and goat cheese.
Mix the garlic, the molten butter and the chives to sauce and sprinkle this over the bread.
As the last layer throw some grated cheese on top.
Now wrap the bread in the aluminum foil and put the bread for 10 minutes in a preheated oven set to 200 C.
Spicy Chakalaka

Heat 1 teaspoon of olive oil in a small wok.
Cut 1 large white onion in tiny cubes and fry these in the wok.
Press 1 piece of garlic and throw this along with the onion.
Cut 2 tomatoes in small cubes and add.
Add 1 fine cut half of a chili pepper and heat the whole dish so far.
Then 1 teaspoon of soy sauce, 1 teaspoon chutney, 1 teaspoon of tomato puree along with some salt and pepper.
Heat the whole up to a small simmer while stirring from time to time. 
Baie maklik, baie lekker!
Ingredients 
(serves 4)
Melted cheese Pull bread
1 uncut loaf of white bread.

(TIP; Liefde & Passie floor bread from Albert Heijn)

100 gr garlic butter
250 gr cheddar
250 gr goat cheese
250 molten butter
1 garlic clove
2 slides of cut chives
250 gr grated cheese
Spicy Chakalaka
1 tablespoon olive oil
1 white onion
2 tomatoes
1 tablespoon of soy sauce
1 tablespoon chutney

(Tip; Patak's mango chutney from Albert Heijn)

1 tablespoon tomato puree
Salt & pepper
1/2 hot chili pepper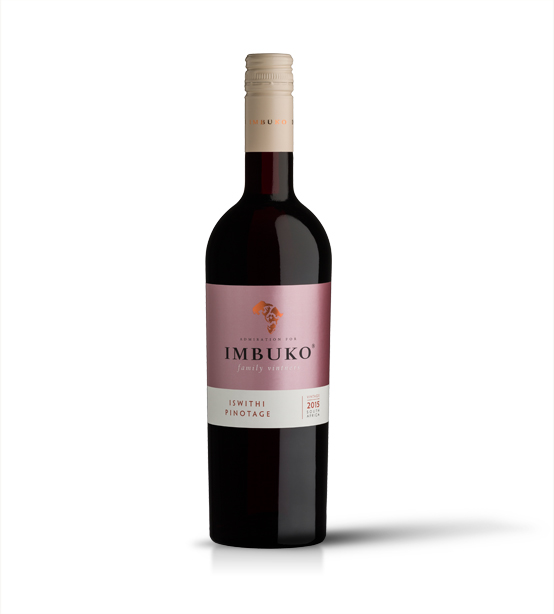 TASTIEST WITH
IMBUKO ISWITHI PINOTAGE 2014

This cheesy pull bread with spicy chakalaka goes great with the Iswithi. the sweet taste really compliments the spiciness of the chakalaka.
View this product